Date: October 19, 2018
From: Kristine Ashton-Magnuson / Ashley Di Buduo

Scallywag!
Craft Beer, Food & Music Festival
Reveals Band Performance Times,
Brewery List & Food Vendors
With Music From Rancid, The Mighty Mighty Bosstones,
Hepcat, Less Than Jake, The Interrupters & Beach Goons

Festival Will Feature Craft Beer Tastings,
Along With Regional Artisan Food Vendors & Music
Saturday, October 20 At Waterfront Park In San Diego, CA
91X Presents Scallywag! Craft Beer, Food & Music Festival returns to San Diego's Waterfront Park on Saturday, October 20 for its third year, featuring craft beer tastings (for those 21+), a number of unique and delectable food items available for purchase, and a full day of music from top punk rock and ska artists Rancid, The Mighty Mighty Bosstones, Hepcat, Less Than Jake, The Interrupters, and Beach Goons.
A limited number of General Admission and VIP passes are still available for purchase at www.scallywagfest.com.
Band performance times for Scallywag! are as follows (subject to change):
| | |
| --- | --- |
| 8:55 p.m. | Rancid |
| 7:25 p.m. | The Mighty Mighty Bosstones |
| 6:10 p.m. | Hepcat |
| 4:55 p.m. | Less Than Jake |
| 3:40 p.m. | The Interrupters |
| 2:40 p.m. | Beach Goons |
During VIP and early entry tastings (from 12:00 p.m. - 4:00 p.m.), and general admission tastings (from 1:00 p.m. - 4:00 p.m.), Scallywag! attendees will enjoy unlimited craft beer samples from top California breweries and more. Local artisan food trucks and pop-up restaurants will also be on site selling a variety of delicious and unique food options throughout the day and evening. Craft beer and other libations will be available for purchase at concession stands as well.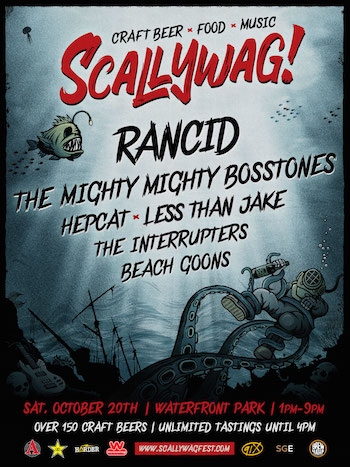 Scallywag! brewery highlights include: Burgeon Beer Co., Melvin Brewing Co., Pure Project, Resident Brewing, and Wild Barrel. Additional breweries pouring on Saturday include: 2 Towns Ciderhouse, 21st Amendment Brewery, Abnormal Beer Co., ACE Cider, Acoustic Ales, AleSmith Brewing Company, Alpine, Amplified Ale Works, Artifex, Avery, Bear Republic, BNS Brewing & Distilling, Bootlegger's Brewery, Booze Brothers Brewing Co., Breakwater Brewing Co., Coronado Brewing Company, Docent Brewing, Fall Brewing Co., Figueroa Mountain, Firestone Walker, Funkwerks, Green Flash Brewing, Hangar 24, Knee Deep Brewing Co., Latchkey Brewing Company, Lucky Luke Brewing, Mason Ale Works, Modern Times Beer, New Braunfels Brewing Company, New English Brewing, Nickel Beer Company, Northern Pine Brewing, Pizza Port Brewing Company, Rock Bottom La Jolla, Second Chance Beer Company, Sierra Nevada Brewing Company, Ska Brewing Company, Stone Brewing, Thorn Brewing Co., Thr3e Punks, Three Weavers Brewing Co., Transplants Brewing Company, and TW Pitchers.
Participating food vendors include:BBC Tacos/Fruit, Baja Grill, Corn Dogs Gone Wild, Spicy Pie, West Coast Events, Strictly Vegan, and Wicked Maine Lobster.
Scallywag! is produced by Synergy Global Entertainment (SGE) and Brew Ha Ha Productions. This year, Scallywag! Craft Beer, Food & Music Festival expanded to include additional dates in Denver, CO, Austin, TX, Auburn, WA, and Boise, ID.
The festival producers encourage attendees to drink responsibly.
Sponsors for Scallywag! include: Avery Brewing Co., 805 Beer, Rockstar Energy Drink, 7 Cold Brew, Naked Juice, Templeton Rye, Jarritos, Tito's Handmade Vodka, Wienerschnitzel, Sycuan, ThinkBlue and Dixxon.
Scallywag! is 21+ until 4:00 p.m. After 4:00 p.m. all ages are welcome.
For more on Scallywag!, visit:
---
About Synergy Global Entertainment, Inc.:
Orange County, California based Synergy Global Entertainment, Inc. (SGE) is one of the world's premier music festival production companies. SGE events include music and lifestyle festivals across a variety of genres and interests, with over 70 major festival dates in 2018. SGE produces or co-produces Back To The Beach; Big Adventure; Driftwood; ID10T Music Festival + Comic Conival; Knotfest; Lost Lands (Your EDM Best Festival of 2017 and Noiseporn 2017 Festival Of The Year); Moonrise Festival; MUSINK; Ohana Dana Point; Sabroso Taco, Craft Beer & Music Festival; 92.3 WCOL Country Jam + Campout; Scallywag!, and more. In addition, SGE co-produced the Rockstar Energy Drink Mayhem Festival and the worldwide Rockstar Taste of Chaos, and created and produced the Identity Festival, Oddball Comedy and Curiosity Festival, and Rockstar Energy UPROAR Festival. This year's SGE-affiliated events are projected to sell nearly 1 million tickets overall. In addition to festival production, SGE's in-house sponsorship agency procures and executes a multitude of partnerships in varying forms for global brands, top-tier artists, international booking agencies and more.
www.sgeworldwide.com
About Brew Ha Ha Productions:
Brew Ha Ha Productions (BHPP) is one of the largest craft beer centric event producers in the United States. Fueled by a desire to promote craft beer, along with visions of creating unique annual events, Orange County based BHHP has enjoyed an unprecedented 180% growth in 2017. Established in 2010, BHHP's Award Winning and diverse events now reach beyond OC and California including festivals in Arizona, Washington, Oregon, Nevada, and Colorado. A 'For-Profit' organization whose missions includes giving back, BHHP has helped many non-profits raise awareness and money to further their worthy causes.
www.brewhahaproductions.com
Scallywag! Publicity Contacts:
Kristine Ashton-Magnuson / Ashton-Magnuson Media: kristine@am-media.net, (818) 996-2496
Ashley Di Buduo / Ashton-Magnuson Media: ashley@a12entertainment.com, (323) 379-9684