Date: November 5, 2018
From: Kristine Ashton-Magnuson / Ashley Di Buduo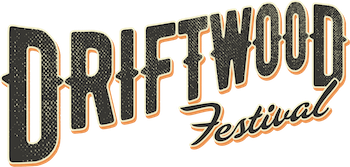 Raise A Glass To 200+ Craft Beers At
Go Country 105 Presents Driftwood:
Country Music, Craft Beer & BBQ Festival
Doheny State Beach
Saturday, November 10 And Sunday, November 11
With Chase Rice, Big & Rich And Many More

Enjoy Country Music, Craft Beers And Delicious BBQ
In A Beautiful Beachfront Setting
[DANA POINT, CA]— Go Country 105 Presents Driftwood: Country Music, Craft Beer & BBQ Festival at Doheny State Beach in Dana Point, CA for its 3rd annual Veterans Day Weekend celebration. The festival will feature a variety of craft beers from local fan favorites and exciting out of town breweries that will be sure to impress country music and craft beer super-fans as they raise a glass to headliners Chase Rice and Big & Rich.
Produced by California's most successful and respected craft beer festival producer Brew Ha Ha Productions, and premier music festival production company Synergy Global Entertainment (SGE), Driftwood offers a weekend of entertainment that will feature line dancing workshops, mechanical bull rides, oversized games including Jenga, Beer Pong, dancing, and much more.
The 3rd annual event offers tastings from an impressive list of breweries including Avery Brewing, Barley Forge, Bootlegger's, Burgeon Beer Co., The Wild Barrel, Alpine Brewing, Artifex, Chapman Crafted and more. The craft beer will pair perfectly with mouthwatering BBQ from some of the region's best restaurants and food trucks. Complimentary beer tastings end at 4:00pm and a great selection of beer will be available for purchase throughout the event.
To complement the craft beer tastings, Driftwood is featuring a signature 60-foot BBQ station that will serve flavorful tri-tip, brisket, and more. Barrett's Sausage King will be offering an assortment of their legendary gourmet sausages. If BBQ isn't your thing, Spicy Pie will be serving up their festival favorite pizza pies.
The music performance times for Driftwood at Doheny State Beach are as follows:
Saturday, November 10
| | |
| --- | --- |
| 8:10 p.m. | Chase Rice |
| 6:55 p.m. | Michael Ray |
| 5:45 p.m. | Carly Pearce |
| 4:40 p.m. | Seth Ennis |
| 3:40 p.m. | Filmore |
| 2:45 p.m. | Naked Walrus |
Sunday, November 11
| | |
| --- | --- |
| 7:40 p.m. | Big & Rich |
| 6:25 p.m. | Kristian Bush |
| 5:15 p.m. | Jamestown Revival |
| 4:10 p.m. | Brooke Eden |
| 3:10 p.m. | Brandon Ray |
| 2:15 p.m. | Naked Walrus |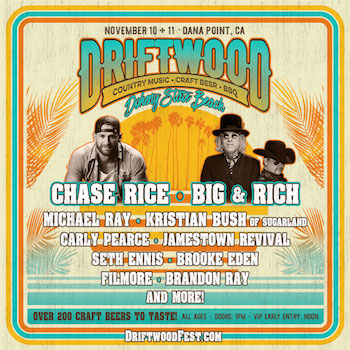 A portion of the proceeds from Driftwood at Doheny State Beach will be donated to the Doheny State Beach Interpretive Association (DSBIA)—the non-profit association of Doheny State Beach, dedicated to the protection of the park's beaches, facilities, marine refuge and its historical, cultural and social stories—and the San Onofre Parks Foundation—a California non-profit that works with the California State Parks to develop, preserve and enhance the recreation and experience of California's unique and beautiful coastal parks.
Shuttle passes are available for only $10 per person, roundtrip. Parking is available at the shuttle pick up at the Outlets at San Clemente (101 W. Avenida Vista Hermosa, San Clemente, CA 92672). Visit www.DriftwoodFest.com for details.
Driftwood kicks off at 1:00 PM each day, with early entry and VIP guests arriving at 12:00 PM. Tickets for Driftwood are on sale now at www.DriftwoodFest.com with general admission prices starting at $39.50 for Single Day tickets, and $79.50 for Weekend tickets, while supplies last. A limited number of Single Day and Weekend VIP packages are also available for purchase.
Doheny State Beach is easily accessible by car from Los Angeles County, San Diego County, the Inland Empire, San Francisco, Las Vegas, Phoenix, Tucson, the San Joaquin Valley, and via flights to Orange County's John Wayne Airport.
The festival producers encourage attendees to drink responsibly.
Sponsors for Driftwood include Pura Vida Bracelets, Wienerschnitzel, Musicians Institute, George Dickel, Avery Brewing Co., Bai Beverages, Rockstar Energy Drink, Head Down Eyes Up, Deep Eddy Vodka, Boot Barn, Barefoot Wines, and more.
For more on Driftwood, visit:
---
About Brew Ha Ha Productions
Brew Ha Ha Productions (BHPP) is one of the largest craft beer national event producers in the United States. Fueled by a desire to promote craft beer, along with visions of creating unique annual events, Orange County based BHHP has enjoyed an unprecedented 180% growth in 2017. Established in 2010, BHHP's Award Winning and diverse events now reach beyond OC and California including festivals in Arizona, Washington, Oregon and other states across the nation. A 'For-Profit' organization whose missions includes giving back, BHHP has helped many non-profits raise awareness and money to further their worthy causes.
www.brewhahaproductions.com
About Synergy Global Entertainment, Inc.
Orange County, California based Synergy Global Entertainment, Inc. (SGE) is one of the world's premier music festival production companies. SGE events include music and lifestyle festivals across a variety of genres and interests, with over 70 major festival dates in 2018. SGE produces or co-produces Back To The Beach; Big Adventure; Driftwood; ID10T Music Festival + Comic Conival; Knotfest; Lost Lands (Your EDM Best Festival of 2017 and Noiseporn 2017 Festival Of The Year); Moonrise Festival; MUSINK; Ohana Dana Point; Sabroso Taco, Craft Beer & Music Festival; 92.3 WCOL Country Jam + Campout; Scallywag!, and more. In addition, SGE co-produced the Rockstar Energy Drink Mayhem Festival and the worldwide Rockstar Taste of Chaos, and created and produced the Identity Festival, Oddball Comedy and Curiosity Festival, and Rockstar Energy UPROAR Festival. This year's SGE-affiliated events are projected to sell nearly 1 million tickets overall. In addition to festival production, SGE's in-house sponsorship agency procures and executes a multitude of partnerships in varying forms for global brands, top-tier artists, international booking agencies and more.
www.sgeworldwide.com
Driftwood Publicity Contacts:
Ashton-Magnuson Media:
Kristine Ashton-Magnuson, kristine@am-media.net; (818) 996-2496
Ashley Di Buduo, ashley@a12entertainment.com; (323) 379-9684
Driftwood's Craft Beer & BBQ Media Contact:
The ACE Agency:
Sally Evans, sally@theaceagency.com; (949) 554-5752