Date: January 22, 2019
From: Kristine Ashton-Magnuson / Selena Fragassi

Epicenter
At Rockingham Festival Grounds In Rockingham, NC
Announces Festival Lineup Additions Including
Reunion Of Eddie Trunk, Don Jamieson & Jim Florentine
From That Metal Show,
As Well As Music Artists The Interrupters, Light The Torch, Ded,
Dead Girls Academy & Tetrarch
Epicenter Will Feature Performances From
Headliners Foo Fighters, Tool, Korn,
Along With Rob Zombie, Judas Priest, Bring Me The Horizon,
The Prodigy, The Cult, 311 & Dozens More
May 10, 11 & 12, 2019

Tickets & Camping On Sale Now
Epicenter—the new 3-day destination music experience from premier independent U.S. music festival producer Danny Wimmer Presents—is proud to host a reunion of Eddie Trunk, Don Jamieson and Jim Florentine from That Metal Show for two on-stage performances during the May 10, 11 and 12 festival at the newly created Rockingham Festival Grounds in Richmond County, NC.
Here's what the guys had to say about this rare appearance:
"The rants, the debates, the rock star interviews and yes…Stump The Trunk are back! May 10 and 11, the 3 amigos of That Metal Show will be live onstage at the country's biggest rock festival—EPICENTER—and we couldn't be more stoked. The Boys Are Back In Town!" — Ed, Don & Jim
Music artists The Interrupters, Light The Torch, Ded, Dead Girls Academy and Tetrarch have also been added to the bill, which will include over 65 music acts performing on four stages, led by Foo Fighters, Tool and Korn.
The inaugural festival, which takes place in the heart of the Mid-Atlantic region, will also feature sets from Rob Zombie, Judas Priest, Bring Me The Horizon, The Prodigy, The Cult, 311, Evanescence, Bush, +Live+ and dozens more. The expansive Rockingham Festival Grounds—being developed in coordination with Rockingham Dragway, The Rock (Rockingham Speedway), and other local land owners—promise nonstop entertainment, extensive camping options, and no curfew.
"We are so stoked to be invited to the party and honored to share the stage with so many legendary bands! May can't come soon enough! Let's party!" — The Interrupters
General Admission, VIP tickets, and hotel and camping packages for Epicenter are on sale now at https://EpicenterFestival.com.
The daily music lineup for Epicenter Festival is as follows (subject to change):
Friday, May 10:

Korn

,

Rob Zombie

,

The Prodigy

,

Evanescence

,

Machine Gun Kelly

,

Meshuggah

,

Skillet

,

Beartooth

,

Mark Lanegan Band

,

Dorothy

,

Black Pistol Fire

,

Zeal & Ardor

,

Knocked Loose

,

Slothrust

,

Wilson

,

Hands Like Houses

,

Hyro The Hero

,

Amigo The Devil

,

Ded

,

Arrested Youth

,

Vein

,

Black Coffee

and more, plus

Eddie Trunk

,

Don Jamieson

and

Jim Florentine

Saturday, May 11:

Tool

,

Judas Priest

,

The Cult

,

Bush

,

Black Label Society

,

Circa Survive

,

Yelawolf

,

Motionless In White

,

The Damned Things

,

Grandson

,

Badflower

,

Memphis May Fire

,

Light The Torch

,

Wage War

,

Crobot

,

Dead Girls Academy

,

Sylar

,

Counterfeit.

,

Pretty Vicious

,

Shvpes

,

Dirty Honey

,

Alien Weaponry

,

Hyde

, and

Tetrarch

, plus

Eddie Trunk

,

Don Jamieson

and

Jim Florentine

Sunday, May 12:

Foo Fighters

,

Bring Me The Horizon

,

311

,

+Live+

,

Mastodon

,

Killswitch Engage

,

Architects

,

The Interrupters

,

Tom Morello

,

Fever 333

,

Reignwolf

,

Yungblud

,

The Glorious Sons

,

Ho99o9

,

While She Sleeps

,

Basement

,

Scarlxrd

,

Movements

,

Teenage Wrist

,

Demob Happy

,

Boston Manor

,

Cleopatrick

,

The Dirty Nil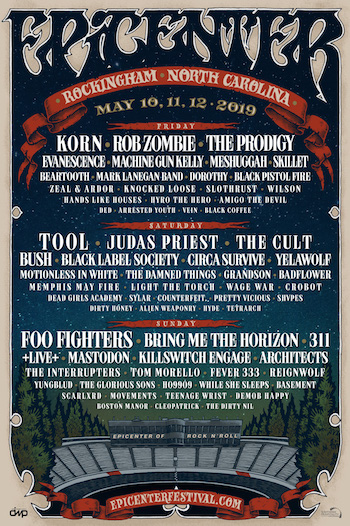 In addition to performances from top music artists, and various onsite attractions, attendees will enjoy a variety of local and regional food and beverage offerings provided by DWP's affiliate concessionaire, Southern Hospitality Concessions LLC.
Fans 21+ can enjoy multiple specialty curated beverage experiences. Varietals from Caduceus Cellars & Merkin Vineyards (owned by Maynard James Keenan, co-founder of international recording acts Tool, A Perfect Circle, and Puscifer) will be available at the Caduceus Wine Garden. Experience abounds at the Heavy Tiki Bar (a tropical oasis filled with killer cocktails and shade). Fans can also enjoy a large variety of local and regional brews at the Epicenter Craft Beer Garden.
Camping at Epicenter will let patrons keep the rock n' roll party going all through the weekend and will set this festival apart from other U.S. rock shows. Camping spots are connected to the festival grounds and include perks like access to showers, portable restrooms, food and drink vendors, charging stations, information and medical services, as well as a Thursday night pre-show party.
Rockingham Village, an impressive promenade conveniently located immediately in front of the venue, adjacent to the North Premium campgrounds, will be open to campers and other festivalgoers until 2:00 AM daily. Featured vendors at Rockingham Village will include festival merchandise, artist merchandise, lockers for rent, lifestyle shopping booths, a full General Store, coffee shop, craft beer at Headbangers Beer Bar, Caduceus wine bar, breakfast vendors for campers, as well as late night food served after the main venue closes. The Village will also have a stage featuring cover bands and Hellzapoppin Circus SideShow performances throughout the weekend.
Epicenter Festival sponsors include: Fxck Cancer / Dyin 2 Live Dreams, FYE and more.
Rockingham Festival Grounds are located at 2153 North U.S. Highway 1, Rockingham, NC, less than two hours from Charlotte, Raleigh/Durham, Columbia and Greensboro.
Epicenter Festival is produced by Los Angeles-based Danny Wimmer Presents, one of the largest independent producers of destination rock music festivals in America. DWP events include Aftershock Festival, Bourbon & Beyond, Chicago Open Air, Epicenter Festival, Hometown Rising, Louder Than Life, Sonic Temple Art + Music Festival, and Welcome To Rockville. They're also the co-creators of Rock On The Range, America's largest and most acclaimed rock festival, which celebrated its 12th and final year in 2018 with 140,000 in attendance; Carolina Rebellion, which wrapped in 2018 after 8 record-breaking years, including over 100,000 in attendance multiple years at the annual event; and Northern Invasion, which had 50,000 in attendance for its fourth year in 2018.
For more information on Epicenter Festival, visit:
---
About Danny Wimmer Presents:
Since 1993, music industry veteran Danny Wimmer has been producing concerts and festivals, both large and small. In 2011, he formed Danny Wimmer Presents, which now produces several of the largest rock and alternative festivals in the U.S. By combining A-list talent with local cuisine and culture, DWP has become recognized within the industry for delivering the highest-quality entertainment experiences to fans, artists, sponsors, partners and host cities. DWP creates memorable and all-encompassing festival experiences, leaving both consumers and partners with lasting and meaningful impressions. DWP will continue to add new music festivals to its already stellar portfolio, which currently includes Aftershock Festival, Bourbon & Beyond, Chicago Open Air, Epicenter Festival, Hometown Rising, Louder Than Life, Sonic Temple Art + Music Festival, and Welcome To Rockville. Previous DWP festivals include Rock On The Range, Carolina Rebellion, Northern Invasion and more.
www.DannyWimmerPresents.com
Epicenter Festival Publicity Contacts
Kristine Ashton-Magnuson / Ashton-Magnuson Media, kristine@am-media.net, (818) 996-2496
Selena Fragassi / Ashton-Magnuson Media, selena@fr-pr.net, (847) 942-3093
Epicenter Festival Marketing Contacts
Lindsey Medina / Danny Wimmer Presents, lindsey@dwpresents.com
Holly Doscher / Danny Wimmer Presents, holly@dwpresents.com
Epicenter Sponsorship Contact
Justin Zweig / Danny Wimmer Presents, partnerships@dannywimmerpresents.com