Date: February 12, 2019
From: Kristine Ashton-Magnuson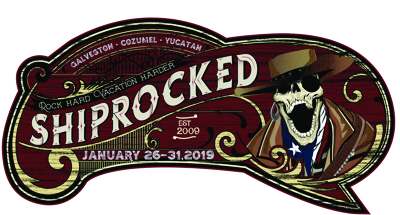 ShipRocked 2019:
Sold Out Cruise Celebrates 10th Year
With Papa Roach,
Bullet For My Valentine, I Prevail, Nothing More,
All Star Band The Stowaways
And More January 26 — 31 Onboard Carnival Valor
Next Year's ShipRocked
Confirmed For February 1 — 6, 2020
Departing New Orleans On Carnival Valor
With Stops In Key West And Cozumel
ShipRocked celebrated its 10th year January 26-31 with a sold out ship of over 3,200 guests onboard Carnival Valor departing from Galveston, Texas, with stops in Cozumel and Progreso in Mexico's Yucatán.
On the first day of the cruise, ShipRocked's 2020 itinerary was revealed, prompting guests to make plans for the February 1-6, 2020 trip from New Orleans, Louisiana to Key West, Florida and Cozumel, Mexico onboard Carnival Valor. Look for ShipRocked 2020 details in the coming months at www.ShipRocked.com.
During this year's 5-day ultimate rock music cruise vacation, ShipRocked guests enjoyed performances from and meet and greets with over 20 artists, including Papa Roach, Bullet For My Valentine, I Prevail, Nothing More, Suicidal Tendencies, 7 year ShipRocked veterans Sevendust, Motionless In White, comedian Brian Posehn, all-star band The Stowaways, and others. ShipRocked's own all-star band The Stowaways, presented by Keep The Beat Alive, dedicated one night's performance to Dimebag Darrell and Vinnie Paul, and also honored fallen Stowaways performer Oli Herbert (All That Remains). The 2019 Stowaways featured Joey Belladonna and Frank Bello of thrash legends Anthrax, Brian "Head" Welch (Korn), Ron "Bumblefoot" Thal, David Ellefson (Megadeth), John Tempesta (The Cult), Wuv and Traa from P.O.D., John Deservio (Black Label Society), and many more. ShipRocked's guest hosts were Kayla Riley and Ralph Sutton.
"SRX was our biggest and best sailing yet. I am tremendously proud of how ShipRocked has grown and evolved over the last 10 years. It continues to offer a uniquely intimate fan experience that just can't be duplicated at concerts or festivals, and a camaraderie amongst our incredible community of guests who have become a year-round family," says ShipRocked creator and producer Alan Koenig of ASK4 Entertainment. "The cliché 'we're all in the same boat' couldn't be more true. A few thousand rock and roll misfits on vacation in our 'safe space' together for 5 days and nights celebrating the music and each other. We can't wait to see what the next decade brings for our Home away from home."
Fan favorite Wilson got the ShipRocked party started with a sailaway deck stage performance on day one and closed the cruise with a packed late night Atrium show on the Valor.
Known for its unique performances and musical collaborations, ShipRocked featured special performances from Altitudes & Attitude (with David Ellefson and Frank Bello), as well as Joey Belladonna, Doug Carter & Tyson Leslie doing an intimate piano/vocal set of Journey classics. Collaborations during the trip included Chad Gray of Hellyeah taking the stage with Brian "Head" Welch and The Stowaways for an emotional performance of Korn's "Blind," marking Chad's first full song performance on stage since the passing of Vinnie Paul; Jacoby Shaddix (Papa Roach) with Nothing More; Mikey Carvajal (Islander) with Papa Roach; members of Wilson and Islander with Hyro The Hero; Hyro The Hero with Nonpoint and Wilson; among others. Papa Roach graciously hosted two marriage proposals on stage during their deck stage sets.
Brian "Head" Welch of Korn hosted a packed Q&A and screening of his emotional documentary, Loud Krazy Love, which documents his relationship with his daughter Jennea and his struggles with addiction, beginning with early days in Korn. During the Q&A segment, an emotional Jacoby Shaddix shared a personal story about how much he related to the film and how Welch helped him through difficult times in his past.
Additional artist hosted activities included the Artist Q&A with Jacoby Shaddix (Papa Roach), Brian "Head" Welch (Korn), Mike Muir (Suicidal Tendencies), Chris Motionless (Motionless In White), and Jesse Hasek (10 Years); The Feud (Papa Roach vs. I Prevail); Beach Wars with Nonpoint; Deck Wars with Wilson; Beer Pong with Badflower; Love & Marriage (with Lajon Witherspoon of Sevendust and his wife Ashley); Playa Mia Beach Excursion (with Wilson & Blacktop Mojo in Cozumel); and Blindfold Musical Chairs (with Them Evils).
Get a taste of the ShipRocked experience through the Aftermovie Teaser Trailer (http://bit.ly/2taAk8K).
Also, check out the video for a metal version of "Thriller" from Leo Moracchioli (Frog Leap Studios) featuring C.J Pierce (Drowning Pool) and a posse of ShipRocker zombie dancers, filmed during ShipRocked 2019: https://www.youtube.com/watch?v=E8lLItlcaZI
For the 9th year, ShipRocked supported Cancer Sucks (www.CancerSucks.com), a grassroots, volunteer-based organization funding cancer treatment and research facilities throughout the United States. This year's onboard auction raised over $80,000. Featured items included tickets and meet and greet with Atreyu, signed guitars from performing artists, and a super Papa Roach package which included Jacoby Shaddix's stage worn pants and t-shirt, two tickets to a show, meet and greet with the band, and dinner with drummer Tony Palermo, who graciously donated his time when he heard about the auction onboard.
Produced by ASK4 Entertainment, ShipRocked is a once-in-a-lifetime experience that provides guests with the opportunity to vacation with their favorite bands, meet new friends, and reunite with old ones year after year. In addition to unique performances and musical collaborations, ShipRocked onboard and beach activities include photo meet and greets with band members, artist hosted events and activities, crazy theme nights, after hours parties and more.
ShipRocked guests enjoyed luxury accommodations onboard the Carnival Valor throughout the vacation, choosing from multiple gourmet dining options, including Guy Fieri's Guy's Burger Joint, BlueIguana Cantina, Mongolian Wok, Ol' Fashioned BBQ, and more.
Rock Hard. Vacation Harder.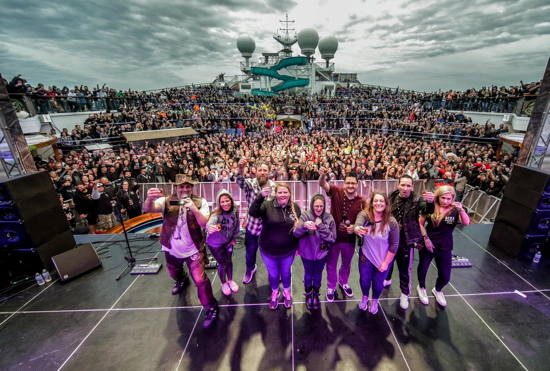 (ShipRocked guests and staff during sailaway from Galveston)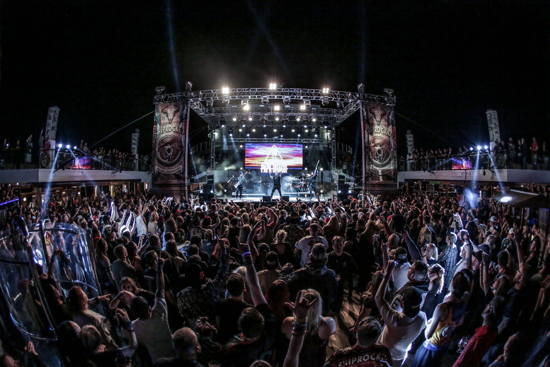 (Papa Roach on the deck stage)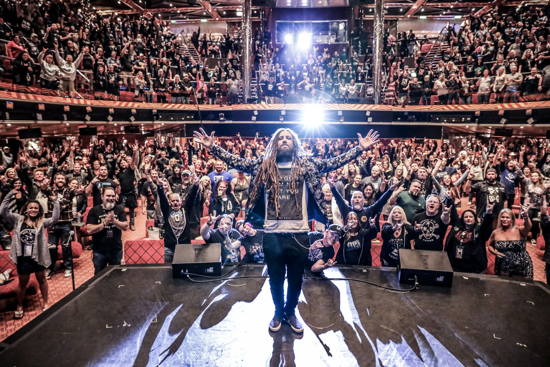 (Brian "Head" Welch of Korn at his Loud Krazy Love documentary screening)
(Artist Q&A: Jesse Hasek/10 Years, Brian "Head" Welch/Korn, Jacoby Shaddix/Papa Roach,
Mike Muir/Suicidal Tendencies, Chris Motionless/Motionless In White, Kayla Riley/SiriusXM)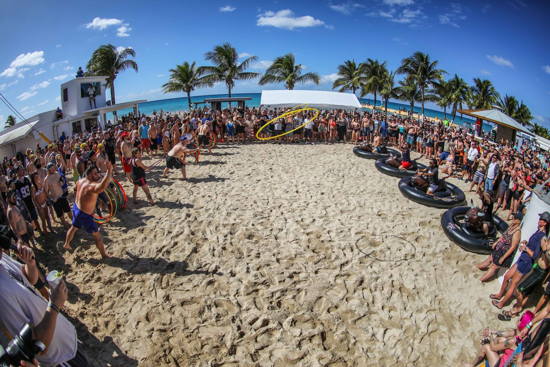 (Beach Wars)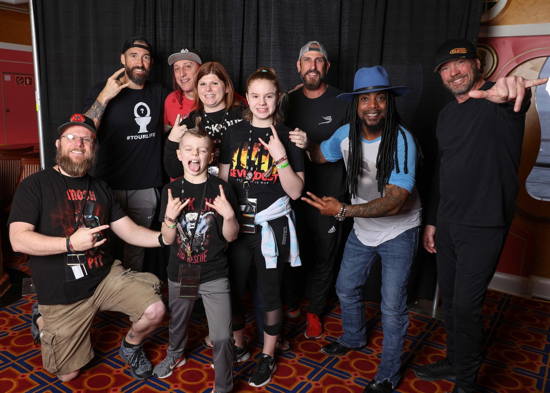 (Sevendust Meet & Greet with ShipRocked guests)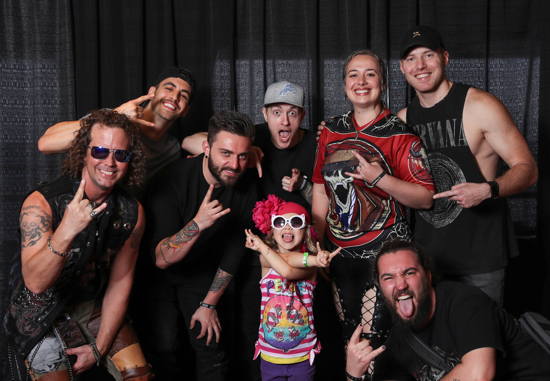 (I Prevail Meet & Greet with ShipRocked guests)
Note: All photos courtesy of ShipRocked.
---
About ShipRocked:
Produced by ASK4 Entertainment—a premier rock music theme cruise and destination event producer—ShipRocked is the ultimate rock music cruise vacation with unique performances and musical collaborations, providing guests with the opportunity to vacation with their favorite bands, meet new friends, and reunite with old ones year after year. The full-ship charter provides a one-of-a-kind experience for guests to have the time of their lives with thousands of like-minded friends. ShipRocked activities include photo meet and greets with band members, poolside games, artist Q&A sessions, trivia challenges, game shows, parties, contests and more. The ShipRocked Cancer Sucks! onboard charity auction has raised nearly $600,000 to date for innovative medical research and finding a cure for cancer.
www.facebook.com/ASK4Entertainment
ShipRocked Publicity Contact:
Kristine Ashton-Magnuson/Ashton-Magnuson Media; kristine@am-media.net; (818) 996-2496