Date: March 20, 2019
From: Kristine Ashton-Magnuson / Ashley Di Buduo

KLOS Presents Gnarlytown: Bikes, Boards & Bands
Celebrating SoCal's Passion For Action Sports & Punk Rock
On Saturday, June 22 At LA Waterfront Berth 46 In San Pedro, CA
With Nitro Circus, Chris Cole's Rail Jam Invitational,
Music From Pennywise, Rancid, Action Bronson & More,
Plus Craft Beer Tastings

Tickets On Sale Friday, March 22 At 10:00 AM PT
Children Under 5 Get In Free With Paid Adult Admission
KLOS Presents Gnarlytown: Bikes, Boards & Bands kicks this summer off in Southern California with the ultimate mashup of action sports, punk rock, and craft beer tasting. Coming to scenic LA Waterfront Berth 46 at the Port of Los Angeles in San Pedro, CA on Saturday, June 22, this new, fun, one-of-a-kind event unites the vital energy and DIY spirit of action sports and punk rock: a dynamic mix that has infused SoCal youth culture for decades. Throughout the festival the daredevils of Nitro Circus, featuring Travis Pastrana and the Nitro Circus crew, will get pulses racing with their thrilling live show, while a collection of the world's top skate athletes will show their skills in a free jam format during Chris Cole's Rail Jam Invitational. On the concert stage, a lineup of legendary punk rock bands and other top music acts including Pennywise, Rancid, Action Bronson, Off!, and Madball will deliver amped up performances. For thirsty fans 21 and over, the event will also feature craft beer tastings (with purchase of a tasting pass) from some of the finest breweries in Southern California and beyond, including Rancid's own collaboration with Ska Brewing, Brewstomper.
KLOS Presents Gnarlytown: Bikes, Boards & Bands is produced by Synergy Global Entertainment (SGE), Nitro Circus, Chris Cole and Brew Ha Ha Productions.
Nitro Circus is bringing high adrenaline action to Gnarlytown. Featuring a star-studded cast of top tier athletes from FMX, BMX, Skate, and more who hold over 30 X Games medals combined, Nitro Circus' athletes will put on four separate shows during the festival. Good music and loud fans are fuel for these talented riders. These shows will feature Nitro's notorious Giganta ramp that towers more than 45 feet high, giving the crew the speed they need to send it off of the newly debuted Next Level take off ramp that stands 15 feet high. The Nitro Circus FMX riders will also be in full effect throwing down choreographed tricks over a 75-foot gap. Need a taste? Click here: https://youtu.be/3la_dMLaVkU.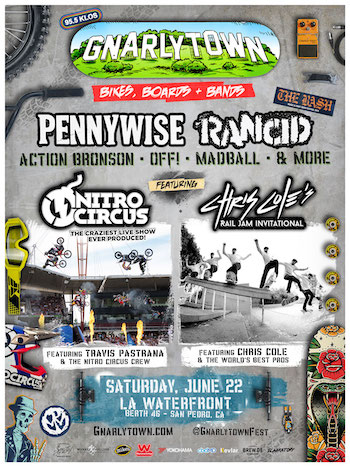 Travis Pastrana says, "Crazy shenanigans and great music have always gone together well. I'm stoked to have the opportunity to ride in front of what's sure to be a packed house and a great time. Between the Nitro Circus athletes, awesome bands like Pennywise and Rancid, and Chris Cole's crew, Gnarlytown is going to be the one festival you cannot miss."
Chris Cole's Rail Jam Invitational is an invitation-only attraction personally curated by Chris Cole and featuring a number of his closest pro skateboarding friends and some of his favorite skaters of today, including Ryan Sheckler, Tom Asta, Chris Joslin and many more, sessioning freely as friends do at a skatepark. Each best trick will be rewarded with a cash prize — the better the trick, the higher the cash amount. The course appears as a mini neighborhood skatepark, with a longitudinal flow to facilitate back-and-forth activity for ease of viewing and activity speed with quarter pipe returns. The main obstacle is a level change in the center, with stairs, a rail, and a hubba ledge designed as an never been seen oversized guitar. There will also be a bump to bar and A frame down either side of the stairs.
Chris Cole explains, "Skateboarding and music are all about energy; it's also a great experience for the skaters to be around the music and a great opportunity for the festivalgoers to enjoy something extra. I'd normally be invited to skate something like this and be stoked about it, and although I won't be able to resist skating the course with my homies, I'm honored to be the one extending the invitation to an amazing event & in partnership with co-founders John Reese at SGE and Nitro Circus."
In addition to top action sports athletes, Gnarlytown will also feature an exciting music lineup headlined by punk rock heavy heavyweights Pennywise and Rancid. Along with performing, Rancid will bring elements of their new music and craft beer event, The Bash, which will offer tasty selections of various pale ales, IPAs, stouts, hefeweizens, saisons, and more, including the band's own collaboration with Ska Brewing, Brewstomper Golden Ale. Tasting passes are sold separately, and are required for craft beer sampling.
Fletcher Dragge of Pennywise says, "'Gnarlytown'…guess the name says it all!! San Pedro has always been a town known for its rough edge…and on June 22nd we're gonna crank that edge up a couple notches. What happens when you combine punk rock, rap, and hardcore bands on a pier with Travis Pastrana's insanely demented Nitro Circus, and add a dose of Chris Cole's infamous rail jam contest??? You get a crazy f'ing day full of music mayhem and more…more? Yep, craft beers will be flowing all day with some of the best local brews. The way I see it, this is a family friendly event that has something for everyone who rolls through the gates. Get your asses down to Berth 46 and let's turn this sh*t up to 11. Once again, SGE is breaking all the rules, and we are beyond stoked to part of this amazing event!! See you fools in the pit!!"
Tickets for Gnarlytown go on sale Friday, March 22 at 10:00 a.m. PT at https://www.gnarlytown.com, with General Admission tickets starting at $39.99 (plus fees), while supplies last. Children under 5 get in free with a paid adult admission (this does not include VIP access).
VIP Lounge tickets start at $109.99 (plus fees) and include: One VIP admission ticket to Gnarlytown; a dedicated VIP entrance lane into the venue; a Gnarlytown parking pass (one per order); an RFID VIP wristband; and access to the Gnarlytown VIP Lounge which includes: Exclusive VIP viewing of the music stage from the lounge, comfortable shaded areas to sit and relax with lounge furniture and games, a VIP bar, private restrooms, changing stations, and convenient food options available for purchase.
VIP Lounge + Athlete Signing Merch Bundle tickets start at $199.99 (plus fees) and include all of the perks of the VIP Lounge ticket, plus access to an autograph signing with various athletes performing at Gnarlytown (at designated time), and a collector's edition merch pack including a Gnarlytown festival t-shirt, sunglasses, clear backpack, and a finger skateboard tech deck.
VIP Lounge + Meet & Greet With Chris Cole tickets start at $299.99 (plus fees) and include all of the perks of the VIP Lounge ticket, plus a meet and greet with Chris Cole (at designated time); a photo opportunity with Chris Cole; a commemorative Chris Cole laminate, and an exclusive Chris Cole skateboard deck.
Attendees who purchase a tasting pass (sold separately, 21+ only) are also invited to explore the craft beer garden, where they can enjoy unlimited craft beer tastings from either 2:00 p.m. - 4:00 p.m. (1:00 p.m. early entry with Deluxe Tasting Pass) or 6:00 p.m. - 8:00 p.m. (5:00 p.m. early entry with Deluxe Tasting Pass). Craft beer lovers will be able to sample from a selection of over 50 different craft beers from top breweries and local favorites, including: Stone Brewing (San Diego, CA), Beachwood (Long Beach, CA), Smog City (Torrance, CA), Artifex Brewing (San Clemente, CA), Ska Brewing (Durango, CO), Modern Times (San Diego/Los Angeles, CA), Mikkeller (San Diego/Los Angeles, CA) and more. Note: The craft beer tasting area is 21+ only. Attendees will have in/out access to the tasting area during their session.
Gnarlytown partners include: Sailor Jerry, Monkey Shoulder, Mike's Hard, Wienerschnitzel, Brew Dr. Kombucha, Slabratory, Yokohama, Kevlar, and more.
LA Waterfront Berth 46 is a large, outdoor space with 360-degree views of Cabrillo Beach and San Pedro Bay at the Port of Los Angeles Outdoor Harbor, located at 3011 Miner St, San Pedro, CA 90731. LA Waterfront Berth 46 has hosted a number of concerts, festivals and sporting events, including Cirque du Soleil TOTEM, Red Bull Global Rallycross, Port Nationals Kustoms & Bobbers Show, Growlers6 Music Festival, and more. The venue is about 25 miles south of downtown Los Angeles, and just a short drive from most of Los Angeles and Orange County. Los Angeles International Airport (LAX), Long Beach Airport (LGB) and John Wayne Airport (SNA) are also easily accessible for those traveling from other parts of the U.S. and the world.
For more information on KLOS Presents Gnarlytown, visit:
---
About Synergy Global Entertainment, Inc.:
Orange County, California based Synergy Global Entertainment, Inc. (SGE) is one of the world's premier music festival production companies. SGE events include music and lifestyle festivals across a variety of genres and interests, with over 100 major festival dates planned for 2019. SGE produces or co-produces Back To The Beach; Big Adventure; Driftwood; ID10T Music Festival + Comic Conival; Knotfest; Lost Lands (Your EDM Best Festival of 2017 and Noiseporn 2017 Festival Of The Year); Moonrise Festival; MUSINK; Ohana Dana Point; Sabroso Taco, Craft Beer & Music Festival; Surf City Blitz; 92.3 WCOL Country Jam + Campout; Scallywag!, and more. In addition, SGE co-produced the Rockstar Energy Drink Mayhem Festival and the worldwide Rockstar Taste of Chaos, and created and produced the Identity Festival, Oddball Comedy and Curiosity Festival, and Rockstar Energy UPROAR Festival. This year's SGE-affiliated events are projected to sell over 1.2 million tickets. In addition to festival production and promotion, SGE's in-house sponsorship agency procures and executes a multitude of partnerships in varying forms for global brands, top-tier artists, international booking agencies and more.
www.sgeworldwide.com
About Nitro Circus:
Nitro Circus, a global sports entertainment leader, creates electrifying live events and unbelievable original content that at once exhilarates, captivates and inspires thrill-seeking fans worldwide. Co-founded in 2003 by iconic superstar Travis Pastrana, Nitro Circus has since grown into a multiplatform phenomenon producing hit television programming, critically acclaimed documentaries and innovative digital offerings. That success gave rise to the Nitro Circus live tour. After debuting its live show in 2010, Nitro Circus has since travelled across the planet, playing to sold-out stadiums on five continents. The company introduced an innovative breakthrough in 2016 with the debut of Nitro World Games, completely rebooting action sports competition in the process and then raised the bar once again in 2018 with Nitro Rallycross, a rejuvenation of four-wheel motorsports. With over three million tickets sold to date, television programming that has aired in over 60 countries, more than 20 million engaged fans across its social media platforms and a burgeoning consumer products business, Nitro Circus is at the forefront of sports and entertainment. For more information visit www.nitrocircus.com.
About Chris Cole:
Since entering professional skateboarding at age 16, Chris Cole has sustainably pursued a methodically productive career that spans the entire spectrum of the sport. He has had his name on thousands of boards, released signature shoes with multiple brands, been on the podium for almost every major skateboarding event around the world, on the cover of the industry's core magazines more than most, and received the title "Skater of the Year" twice — a double honor bestowed upon just one other skateboarder. He's a role model as a skateboarder within the scene, as a professional within the industry, and as a father within the community. Although now refocusing from professional competitive skateboarding, Cole remains highly involved in the 2020 Tokyo Olympics at which the sport will make its highly anticipated debut.
www.chriscobracole.com
About Brew Ha Ha Productions:
One of the largest craft beer-centric event producers in the United States, Brew Ha Ha Productions (BHPP) celebrates its 10th year in 2019. Fueled by a desire to promote craft beer, along with visions of creating unique annual events, Orange County based BHHP's award-winning and diverse events now reach beyond Orange County and California, including festivals in more than 12 US states. BHHP produces or co-produces OC Brew Ha Ha, Brew Hee Haw at the OC Fair, Brew Ho Ho Holiday Ale Festival, Driftwood Country, Craft Beer & BBQ Festival, Sabroso Taco, Craft Beer & Music Festival, Punk In Drublic, Scallywag and more! A for-profit organization whose missions includes giving back, BHHP has helped many non-profits raise awareness and money to further their worthy causes.
www.brewhahaproductions.com
About KLOS:
KLOS The Rock of Southern California (95.5 FM) is a commercial Rock music formatted radio station in Southern California broadcasting to Los Angeles, Ventura, Riverside, San Bernardino, and Orange Counties. KLOS features specialty music shows such as Frosty, Heidi & Frank, Jonesy's Jukebox, Full Metal Jackie's Whiplash, Check 1…2, and many more. Owned by Cumulus Media, KLOS studios are in Culver City, CA and the station reaches an audience of over 1.5 million listeners each week.
KLOS Presents Gnarlytown: Bikes, Boards & Bands Publicity Contacts:
Ashton-Magnuson Media:
Kristine Ashton-Magnuson, kristine@am-media.net; (818) 996-2496
Ashley Di Buduo, ashley@a12entertainment.com; (323) 379-9684
Nitro Circus Publicity Contacts:
Reid Vokey, reid@nitrocircus.com
Greg Terlizzi, Greg@nitrocircus.com
Chris Cole Publicity Contact:
Sarah Bronilla, sarah@vocalnyc.com