Date: February 12, 2015
From: Kristine Ashton-Magnuson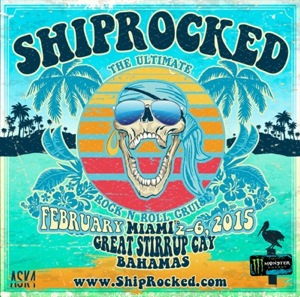 SHIPROCKED 2015:

GUESTS "ROCK HARD, VACATION HARDER"
EXPERIENCING ONCE-IN-A-LIFETIME PERFORMANCES AND MUSICAL
COLLABORATIONS, SUN, SAND AND SEA DURING FIVE DAY
ULTIMATE ROCK MUSIC CRUISE VACATION
CABINS ON SALE SOON FOR SHIPROCKED 2016
ShipRocked guests returned to Port Miami on February 6, 2015 after five days of sun, sand, sea and hard rock during the ultimate rock music cruise vacation. ShipRocked 2015 featured once-in-a-lifetime performances and musical collaborations during the roundtrip ocean voyage from Port Miami onboard Norwegian Pearl, with two days at picturesque Great Stirrup Cay in the Bahamas.
Check out the official ShipRocked 2015 Aftermovie Teaser Trailer here:
https://vimeo.com/119461426.
For those that want to "Rock Hard, Vacation Harder," plans are underway for ShipRocked 2016. The ShipRocked pre-sale will begin in the next few weeks, with cabin selection following shortly after. Look for details in the coming weeks at www.ShipRocked.com.
ShipRocked 2015—fueled by Monster Energy—featured performances and Photo Meet & Greets with Limp Bizkit, Black Label Society, heavy metal all-star band Metal Allegiance, Buckcherry, P.O.D., Sevendust, Tremonti, Andrew W.K., Living Colour, Filter, Lacuna Coil, Nonpoint, Otherwise, Zach Myers of Shinedown with J.R. Moore & Zack Mack, Crobot, Thousand Foot Krutch, Wilson, Gemini Syndrome, and more.
Metal Allegiance put their spin on two scorching sets of rock and heavy metal's most influential and recognizable songs, and for the first time, performed Van Halen's self-titled debut album in its entirety, joined by very special guest Wolf Van Halen (Tremonti/Van Halen) on bass for select songs. The ShipRocked Metal Allegiance lineup included singers Joey Belladonna (Anthrax), Mark Osegueda (Death Angel), Troy Sanders (Mastodon) and Cristina Scabbia (Lacuna Coil); guitarists Chris Broderick (ex-Megadeth), Scott Ian (Anthrax), Alex Skolnick (Testament), and Gary Holt (Slayer/Exodus); bassists Frank Bello (Anthrax), David Ellefson (Megadeth) and Rex Brown (Kill Devil Hill/Pantera); and drummer Mike Portnoy (The Winery Dogs, ex-Dream Theater).
Living Colour's first performance featured special guests Lajon Witherspoon (Sevendust) on "Cult Of Personality," Scott Ian on The Clash's "Should I Stay Or Should I Go," and Joey Belladonna and Alex Skolnick on Cream's "Sunshine Of My Love."
Many ShipRocked guests started their vacation early with the ShipRocked Super Sailgate Pre-Party—sponsored by Monster Energy—on February 1, which kicked off with Zakk Wylde's rendition of "The Star Spangled Banner" on guitar, featured Chevelle's only ShipRocked performance, as well as a halftime performance from Wilson (complete with cheerleaders), and a post-game performance by ShipRocked veterans Sevendust.
In addition to the non-stop music on the ship and the private island during ShipRocked, guests participated in a variety of events, activities and competitions, including:
Book Signing with

David Ellefson

and

Rex Brown

Artist Q&A with

Fred Durst

,

David Ellefson

,

Mike Portnoy

,

Marcos Curiel

,

Cristina Scabbia

and

Lukas Rossi

Beach Wars with team captains

Nonpoint

&

Otherwise

After-hours DJ set from

Fred Durst

Drunk Spelling Bee hosted by

Andrew W.K.

Supernaturale Beer Pong hosted by

Crobot

Hard Rock Karaoke hosted by

Chad Nicefield

of

Wilson

Rock 'N Roll Bingo hosted by

Gemini Syndrome

&

Big Jay Oakerson

Legion Of Skanks Comedy Show (

Big Jay Oakerson

&

Luis J. Gomez

)

The SDR Show

with

Ralph Sutton

and

Big Jay Oakerson

Tattoo Parlour provided by Spaded & Jaded Tattoo, Tulsa OK
Rock My Yoga with Mari Dew
Theme Nights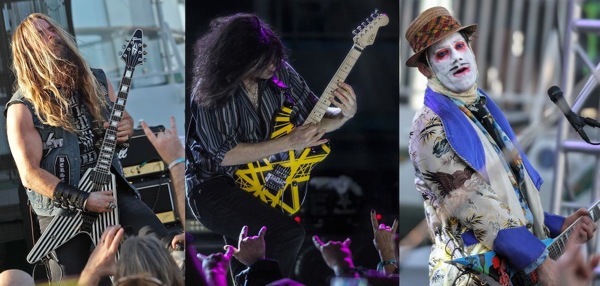 (Black Label Society's Zakk Wylde performs "The Star-Spangled Banner," Metal Allegiance's Alex Skolnick performs Van Halen's "Eruption," Limp Bizkit's Wes Borland performs during the ShipRocked 2015 sail away)
2015 also marked the first-ever Shippy Awards on the final night of the cruise, where guests were presented with awards for various accomplishments during the trip.
The ShipRocked charity auction benefitting Cancer Sucks (www.cancersucks.com) raised nearly $80,000. Cancer Sucks is a nonprofit organization dedicated to funding innovative medical research and finding a cure for cancer. The annual auction features one-of-a-kind rock memorabilia from current and past ShipRocked bands and more.
Here's a taste of what various press experienced during ShipRocked:
"When you step on the deck of the ShipRocked boat you realize immediately that this is a special place where artists and their biggest fans can rock the nights away with massive show after show for five days on the high seas aboard Norwegian Pearl…One of the coolest things to see on the [ship] is that all of the band members are true rock music fans. They all attend each other's performances while on board…ShipRocked is all about the fans and the fan experience. Every single band member was out of their room enjoying the ship, meeting fans, taking pictures, and signing autographs every day. I saw fans wait patiently to speak to their favorite band members and they were all very respectful of the artists throughout the cruise. This is not my first music cruise but this is the first one where every band on board did a formal meet and greet so that their fans could have a photo with all band members either onboard the ship or on the island."

—Amy Harris, AXS.com, February 8, 2015

"ShipRockers have their own nomenclature, their own code of conduct and a willingness to embrace strangers, knowing we are all there for the same reasons."

—Steve Black, WRIF-FM (Detroit)/Chop Shop Radio, February 9, 2015

"The fun aboard ShipRocked is endless…"

—Liz Ramanand, Loudwire.com, February 10, 2015 (Day 1 recap)

"ShipRocked is the ultimate party on a huge boat with all of your favorite bands."

—Liz Ramanand, Charged.fm, February 10, 2015

"…the vacation of a lifetime…"

—Amy Harris, Cincinnati CityBeat, February 11, 2015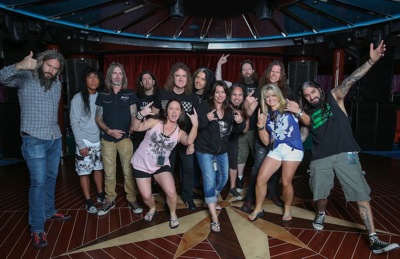 (Metal Allegiance photo meet & greet)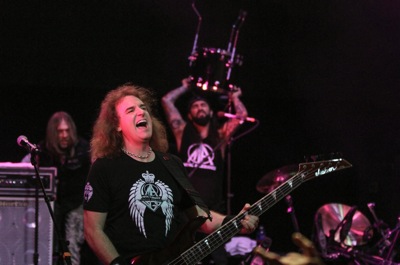 (Metal Allegiance in Stardust Theater)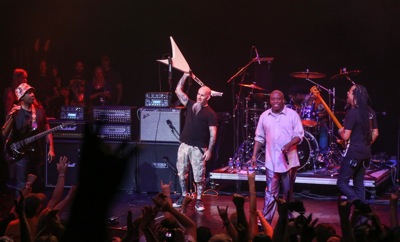 (Living Colour with guest Scott Ian of Metal Allegiance/Anthrax in Stardust Theater)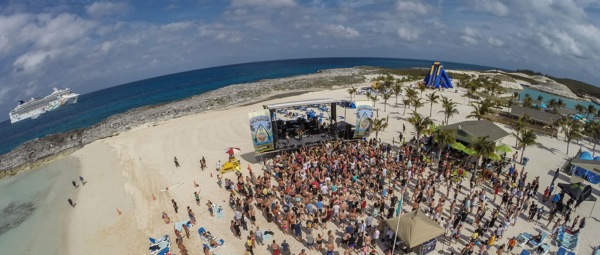 (Nonpoint on Great Stirrup Cay beach stage)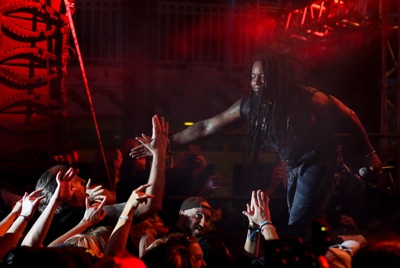 (Sevendust's Lajon Witherspoon in Stardust Theater)
Note: All photos by Chris Bradshaw except Metal Allegiance meet & greet photo by Nick Shirghio.
---
About ShipRocked
The ultimate rock music cruise vacation is produced by Alan Koenig of ASK4 Entertainment and Whet Travel. During ShipRocked 2015, guests from around the U.S. and various other countries were treated to more than 50 performances from 25 artists on five stages aboard Norwegian Pearl—and on the spectacular beach stage of Great Stirrup Cay in the Bahamas—along with three days of meet-and-greets with ShipRocked artists, comedy and DJ sets, impromptu stage-side signings, and more. The 2015 ShipRocked Cancer Sucks! onboard charity auction raised nearly $80,000 towards funding innovative medical research and finding a cure for cancer. Each ShipRocked is a once-in-a-lifetime experience that provides guests with the opportunity to vacation with their favorite bands, meet new friends, and reunite with old friends year after year. On any given day, guests might find themselves dining, drinking, rocking out, swimming, working out, or gambling alongside their favorite rock musicians. The full-ship charter provides a one-of-a-kind experience for guests to have the time of their lives with thousands of like-minded friends. Previous ShipRocked performers include: 10 Years, Black Stone Cherry, Buckcherry, Candlebox, Filter, Five Finger Death Punch, Fuel, Geoff Tate, Godsmack, Hellyeah, Helmet, Hinder, In This Moment, Korn, Lit, Living Colour, P.O.D., Papa Roach, Pop Evil, Queensrÿche, Sevendust, Three Days Grace, and many more. Check out recap videos from ShipRocked's 2014 cruise here:
http://vimeo.com/88719932.
www.ShipRocked.com
About ASK4 Entertainment
ASK4 Entertainment is a premier rock music theme cruise and destination event producer. In addition to ShipRocked, ASK4 Entertainment also produces Motörhead's Motörboat, as well as the ShipRocked Summer Camp land event.
www.facebook.com/ASK4Entertainment
About Whet Travel Inc.
Whet = EXCITEMENT! Whet Travel is an 11-year-old progressive travel company that was formed to meet the unique travel needs of music charters, large groups and young professionals. Whet Travel is the producer of The Groove Cruise—"The World's Largest Floating Dance Music Festival," the Aventura Dance Cruise—"The World's Largest Latin Dance Cruise," and the Zen Cruise—"A Transformational Journey at Sea." Whet Travel sells cruises, vacation packages, and all inclusive resorts around the world with a focus on large affinity, theme, corporate and music groups.
WhetTravel.com