Date: September 1, 2016
From: Kristine Ashton-Magnuson

ONSITE EXPERIENCES ANNOUNCED FOR THIRD ANNUAL
LOUDER THAN LIFE
DESTINATION FESTIVAL CELEBRATING THE WORLD'S TOP
BOURBON, MUSIC AND GOURMET MAN FOOD
OCTOBER 1 & 2 AT CHAMPIONS PARK IN LOUISVILLE, KY

FEATURING SLIPKNOT AND AVENGED SEVENFOLD
HEADLINING TOGETHER FOR THE FIRST TIME EVER,
WITH DISTURBED, KORN, SLAYER, THE CULT, GHOST, PIERCE THE VEIL
AND MANY MORE
"Louisville: The Home Of Bourbon.
Great People. Great Food."
Additional festival experiences have been announced for the third annual LOUDER THAN LIFE, October 1 & 2, 2016 at Champions Park near downtown Louisville. The annual destination festival celebrates the region's culture and cuisine, and features award-winning bourbons and spirits, Gourmet Man Food, craft beer and some of the biggest names in rock music.
Slipknot and Avenged Sevenfold—headlining together for the first time ever—top a mindblowing music lineup of over 35 bands on three stages, with performances from Disturbed, Korn, Slayer, The Cult, Ghost, Rock and Roll Hall of Famers Cheap Trick, Pierce The Veil and many more.
General admission and VIP tickets, as well as hotel and camping packages, are on sale now at www.LouderThanLifeFestival.com.
To kick off the LOUDER THAN LIFE weekend, festival attendees are invited to the Chef Edward Lee Dinner With Shannon Gunz at the Wine Studio at 610 Magnolia Restaurant. The dinner will be held Friday, September 30 at 7:00 PM and will feature a specially created menu by Louisville's very own celebrity chef Edward Lee and will be hosted by SiriusXM's Shannon Gunz. Purchase tickets at: https://louderthanlife.frontgatetickets.com/event/qxgp2eidnhcb5iih.
Here's a preliminary list of LOUDER THAN LIFE festival experiences, including Gourmet Man Food, Bourbon World and craft beer, as well as nonprofit organizations with a presence at the festival:
Monster Energy Experience/Sampling:

Monster Energy will be keeping all fans fueled up and ready to rock by offering free sampling on their Monster Energy viewing deck. Enjoy Monster Energy drinks from one of the best seats in the house. Make sure to check back throughout the festival for a schedule of Monster Energy's interactive artist experiences.
Facebook: facebook.com/monsterenergy
#monsterenergy #monstermusic

Bourbon World presented by the Louisville Courier-Journal:

Angel's Envy, Basil Hayden's, Benchmark, Buffalo Trace, Bulleit, Eagle Rare, Evan Williams, Larceny, Four Roses, Jim Beam, Knob Creek, Maker's Mark, Michter's, Old Forester, Town Branch, Willett, Wild Turkey, Woodford Reserve. Bourbon World will feature performances and rock 'n' roll bluegrass covers throughout the day from Iron Horse (http://ironhorsebluegrass.com). The Christian Benner Experience (see below for details) will also be located within the Bourbon World grounds.

Whiskey & Other Spirits:

Jack Daniel's, Tito's Handmade Vodka, El Jimador Tequila

Gourmet Man Food Village:

502 Café, Art Eatables, Aporkalypse Now, Blackbeard Espresso, Black Rock Grille, Cheese Louise, Chicago Taste Authority, Classic Home Cookin', The Comfy Cow, Cousins Maine Lobster, Cravin' Cajun, Louisville Dessert Truck, Dia De Los Tamales, Doc Crow's, Doc's Cantina, The Duffy Shuffle, El Luchador, Gelato Gilberto, Hebro's Kitchen, Hi-Five Doughnuts, Highway 61, Hole Mole, International Spud Station, Iron Barley, Island Noodles, Lexi Lu's, Lil Cheezers, Longshot Lobsta, Mac' Attack, Mike's Kentucky Kitchen, Momma's BBQ, Mount Olympus, Mr. G's Kettle Corn, Pie Baby, Pollo: A Gourmet Chicken Joint, Red Top Gourmet Hot Dogs, Spotz Gelato, Spudz Chips, Louisville Sushi Truck, The Traveling Kitchen, Tumbleweed (serving Jack Daniel's inspired food items), Up In Smoke BBQ, Zoom Zoom Yum

LOUDER THAN LIFE Whole Hog Experience:

This will be provided by Louisville favorite Keith Bush Jr. of Boss Hog BBQ — a spectacle not to be missed. In addition to the Whole Hog offerings, Keith will feature his famous pulled pork and pulled chicken along with ribs/rib tips, brisket and delicious sides.

Craft Beer (Regional) & Artist Inspired Beverages:

Alltech Lexington, Falls City Beer, Goodwood Brewing Company, Motörhead Shiraz, New Albanian Brewing Company, Iron Maiden's TROOPER Beer, West Sixth

The Christian Benner Experience:

New York-based fashion designer Christian Benner is known for his custom-distressed leather jackets and band tees that he produces by hand. He was initially inspired by the do-it-yourself fashion in the punk rock scene of the late '70s and early '80s. Benner used the same attitude to create his first original designs and cultivated his own unique grasp of rock and roll culture in his clothing. The records he listens to often inspire his work and his designs are treated as an artistic process similar to the creation of a painting. His custom leather jackets and t-shirts are sought by musicians and stylists for events, and he recently wrapped up designing the wardrobe for Guns 'N' Roses on their current reunion tour. Make sure you stop by his workspace in Bourbon World to see him in action and check out some of his select pieces and get your band merch customized!
http://www.christianbennercustom.com/

Local Celebrity Chefs:

Edward Lee, Jonathan Schwartz, Keith Bush Jr.

It's Miller Time VIP Lounge:

The massive lounge and sports bar will be showing college and NFL football games all weekend. The VIP area includes: LED screens featuring video feed from all three main stages; VIP dedicated restrooms; upgraded Gourmet Man Food; upgraded bourbon and cocktail selections; shaded VIP pavilion with chairs, tables and couches adjacent to the VIP viewing area (exclusive view of North and South main stages from a seated and standing area located near main stage South). VIP Gourmet Man Food offerings will include: Pie Baby (gourmet wood fired pizza and salads), Mike's Kentucky Kitchen (custom grilled burgers like Bourbon Bacon Burger and the brand new LOUDER THAN LIFE Burger), Ben's Burrito Bowls (gluten free, vegetarian and vegan bowls), Chef Lee, Gelato Gilberto (simply the best in Italian Gelato), Up In Smoke BBQ (Southern BBQ done right — pulled pork, ribs, chicken — and special LOUDER THAN LIFE BBQ sauces).

Vibes:

Vibes high-fidelity earplugs will be on site rewarding all LOUDER THAN LIFE VIP ticket purchasers with FREE earplugs to protect their hearing all weekend long without losing the live music experience! Don't have earplugs? No worries! You can pick these up at The Music Experience as well for $20. First come first served. While supplies last.
http://www.discovervibes.com

f.y.e. Fan Experience:

f.y.e. will be hosting the ultimate fan and artist interactive experiences throughout the festival. f.y.e. is the only place at the festival to get all your favorite band's music — and maybe even get to meet your favorite LOUDER THAN LIFE performers. Check back for updates on artist meet and greet and autograph signing sessions as well as unique experiences and offers thanks to Roadrunner Records. First conceived as an indie importer of Metal albums in 1980, Roadrunner Records, now in its 36th year, has grown into the most significant and innovative label in heavy music culture. Roadrunner's passion for artist development and commitment to integrity made the label the home of choice for legendary groups such as Sepultura, Machine Head, King Diamond, Life of Agony and Type O Negative, while its current roster boasts the powerfully diverse likes of Slipknot, Stone Sour, Gojira, Killswitch Engage, Dream Theater, Trivium and many more. Roadrunner's affection for artistry continues today as a new generation of incredible artists including Marmozets, KING 810, The Amity Affliction, Wild Throne, Kvelertak, Turnstile, Code Orange and more continue to further the label's already storied legacy.
Facebook: facebook.com/FYE
Instagram: @officalFYEmusic
#unitedstatesofFYE
www.roadrunnerrecords.com
Facebook: www.facebook.com/roadrunnerrecords
Instagram: www.instagram.com/roadrunnerrecords
Twitter: https://twitter.com/rrusa
YouTube: www.youtube.com/roadrunnerrecords
#RoadrunnerRecords

The Music Experience:

The Music Experience features all the elements that are involved in making music in a professional band setting. The interactive exhibit features guitars, basses, amps, drums, keyboards and electronic gear from Fender Guitars, ESP Guitars, PRS Guitars, Yamaha / Revstar Guitars, Eventide, CAD Audio, Zemaitis Guitars, SJC Drums, Ibanez Guitars, Dean Guitars and more. The Music Experience has autograph signings and artist interactions throughout the day. Check Facebook and Instagram for the latest info on who will be hanging out at The Music Experience.
Facebook: facebook.com/themusicexp
Instagram: @tmexp

Jack Daniel's Experience:

"Taste of Tennessee" invites visitors to come experience what America's first registered distillery has to offer from a brand new perspective. The Jack Daniel's Experience is open to all fans ages 21 years old and older. Stop by the Old No. 7 Salon — where guests can be transformed through haircuts or face paint by a team of Jack Daniel's stylists. Get your photo taken with rock star swagger in a golden Jack Daniel's throne and don't miss Jack's Porch — outfitted with porch benches, rocking chairs and virtual reality goggles that will give you a taste of what life is like in Lynchburg, Tennessee, where every drop of Jack Daniel's Tennessee Whiskey is made.
Facebook: facebook.com/jackdaniels
Instagram: @jackdaniels_us
#jackdaniels #BornToMakeWhiskey

Keep Golf Metal:

Keep Golf Metal is a movement that encourages festival attendees to play a 9-hole putt putt course with PGA level golf clubs. Keep Golf Metal also has apparel that features designs that fuse the rock and golf worlds together. Check it out next to The Music Experience all weekend long!
http://www.keepgolfmetal.com/

Zippo Encore Experience:

Zippo Encore will offer a full stock of Zippo lighters, including the limited edition festival designs. Come by and check out their contests and giveaways or get a free lighter fill or tune-up. Be sure to bring your Zippo lighter to the festival, it could be your ticket to special experiences.
Facebook: facebook.com/zippoencore
Instagram: @zippoencore
#zippo #zippoencore

Chef Edward Lee Dinner With Shannon Gunz:

LOUDER THAN LIFE attendees are invited to enjoy a specially created menu by Louisville's very own celebrity chef Edward Lee at the Wine Studio at 610 Magnolia Restaurant. The kickoff dinner on September 30th at 7:00 PM will also be hosted by SiriusXM's Shannon Gunz. Tickets are available on a first come first served basis, as limited seating is available. Dinner tickets are $110 plus tax and fees. Every dinner ticket includes 2 bourbon cocktails as well. Event is 21+. Purchase tickets at: https://louderthanlife.frontgatetickets.com/event/qxgp2eidnhcb5iih.

Yellow Cab:

Yellow Cab wants to let your fingers do the driving when you attend LOUDER THAN LIFE. Download the official app, text GOLOUCAB to 31996, call 502-636-5511 or go to www.goloucab.com to request!

Dyin 2 Live / Fxck Cancer:

The F C Cancer Foundation's mission is to fight cancer by raising awareness and to educate about early cancer detection, ultimately putting an end to late stage cancer diagnosis. The Dyin 2 Live wish granting program looks to enrich the lives of those fighting cancer by offering them an experience that will bring joy, hope, inspiration, and courage into their lives. In doing this, the program hopes it can help give the cancer fighter a chance to forget, even if it's only for a day, what they are battling. The hope is that it can be used as a source of inspiration to those needing a brighter day in their darkest hour.
www.FxckCancer.org
www.makingdreamshappen.org
www.Dyin2Live.org
Facebook: facebook.com/Dyin2LiveDREAMS or facebook.com/FxckCancerUSA
Instagram: @FxckCancer and @Dyin2LiveDreams

Take Me Home Animal Rescue:

Take Me Home is a not for profit, volunteer based foundation that has been saving the lives of homeless animals since 2001. Many families living in low-income areas cannot afford medical care, basic vaccinations, or spay/neuter surgeries for their companion animals. The donations raised help us to fund mobile veterinary hospitals to travel into these under-served areas to provide free spay and neuter, vaccinations, microchipping and administer medical care for animals in desperate need. Take Me Home also supports local animal charities. Come by the booth to help out our furry friends by buying a shirt, signed merchandise, and entering a raffle. Danny Wimmer, Founder, DWP, said, "DWP is proud to support various charities, giving them a national platform to promote their messages. We are particularly fond of Take Me Home, which advocates for animal adoption. I hope everyone stops by their booth and supports their fundraising efforts to help animals in need." For more information, please visit: www.takemehome.tv.
Facebook: facebook.com/TakeMeHomeRescue
Instagram: @TakeMeHomeRescue
Twitter: @TMHRescue

Tumbleweed Non Service Fee Tickets:

Tumbleweed will be selling NON SERVICE FEE tickets starting September 1 at their 10 local Louisville stores and in surrounding areas. Head to www.LouderThanLifeFestival.com, click tickets and find the locations nearest to you. Every ticket purchased gets a free queso dip!
http://louderthanlifefestival.com/tickets/
LOUDER THAN LIFE is presenting kickoff events with festival alumni Nothing More. Check out the LOUDER THAN LIFE Presents shows at the below links and enter to win tickets and a custom LOUDER THAN LIFE / Nothing More barrel heads highlighting each specific show, signed by the band and courtesy of Jack Daniel's. Enter to win at the links below.
The daily music lineup for LOUDER THAN LIFE is as follows:
Saturday, October 1

Avenged Sevenfold, Slayer, The Cult, Pierce The Veil, Cheap Trick, Chevy Metal, Anthrax, Motionless In White, Hellyeah, Sick Puppies, The Amity Affliction, Avatar, I Prevail, Neck Deep, Young Guns, Being As An Ocean, '68, Twelve Foot Ninja, Dinosaur Pile-Up, Bishop Gunn

Sunday, October 2

Slipknot, Disturbed, Korn, Ghost, Alter Bridge, Clutch, Pop Evil, Skillet, Sevendust, Zakk Sabbath, Parkway Drive, Trivium, KYNG, Skindred, Adelitas Way, Crobot, Smashing Satellites, Sabaton, Them Evils
Visit www.LouderThanLifeFestival.com to purchase General Admission or VIP tickets. VIP passes include: VIP entrance lanes into venue, shaded VIP hang area with seating for dining, seated and standing viewing area of Main Stage South (left), video screens featuring live feed from main stages inside VIP hang area, upgraded Gourmet Man Food and drink selections (for additional purchase), dedicated VIP restrooms, and a commemorative LOUDER THAN LIFE 2016 laminate.
Hotel discounts are available through Curadora at: https://curadora.com/events/louder-than-life-2016-dea7cc2c/. Camping and VIP packages can be purchased at www.LouderThanLifeFestival.com.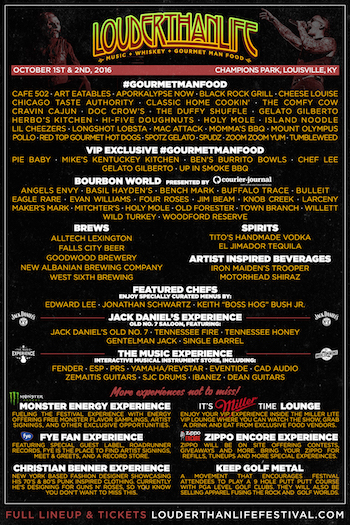 All LOUDER THAN LIFE camping passes include campsite space for 3 nights as well as access to campground bathrooms, showers, food and beverage concession stands, and a general store. Campers also have in and out privileges between the campground and festival grounds throughout the event. Car (tent) camping passes are $99.00 and RV camping passes are $175.00.
Produced by Danny Wimmer Presents, America's premier production company for rock music festivals, Louisville's LOUDER THAN LIFE features a selection of award-winning bourbons, whiskey, spirits, craft beer, and Gourmet Man Food curated personally by festival creator Danny Wimmer, along with a powerful music lineup of rock legends and breaking talent. The festival celebrates the bourbon culture and culinary heritage of this unique American city. In 2015, Louisville was #2 on the USA Today list of Best Local Food Scenes and was featured in Time Magazine's list of America's Best Music Scenes.
Sponsors for LOUDER THAN LIFE include Monster Energy, Jack Daniel's, Miller Lite, f.y.e., The Music Experience, Zippo Encore, Tito's Vodka, El Jimador Tequila, 4th Street Live, Louisville Courier Journal, Leo Weekly, Spudz Potato Chips, Vibes High-Fidelity Earplugs, Roadrunner Records, Fxck Cancer's Dyin 2 Live, Marine's, Take Me Home Animal Rescue, Yelp and more.
---
About Danny Wimmer Presents
Since 1993, music industry veteran Danny Wimmer has been producing concerts and festivals, both large and small. In 2011, he formed Danny Wimmer Presents, which now produces several of the largest rock and alternative festivals in the U.S. By combining A-list talent with local cuisine and culture, DWP has become recognized within the industry for delivering the highest-quality entertainment experiences to fans, artists, sponsors, partners and host cities. DWP creates memorable and all-encompassing festival experiences, leaving both consumers and partners with lasting and meaningful impressions. With 580,000 fans attending all DWP festivals in 2015, and 10 billion media impressions, DWP will continue to add new music festivals to its already stellar portfolio, which includes Rock On The Range, Monster Energy Aftershock Festival, Monster Energy Welcome To Rockville, Monster Energy Carolina Rebellion, Louder Than Life, and Monster Energy Rock Allegiance, among others.
www.DannyWimmerPresents.com
LOUDER THAN LIFE Publicity Contact
Kristine Ashton-Magnuson/Ashton-Magnuson Media
kristine@am-media.net; (818) 996-2496
LOUDER THAN LIFE Marketing & Sponsorship Contact
Clay Busch/Danny Wimmer Presents
clay@dwpresents.com