Date: October 23, 2017
From: Kristine Ashton-Magnuson / Selena Fragassi

Welcome To Rockville
Kicks Off The World's Loudest Month 2018
With Foo Fighters & More
Florida's Biggest Rock Experience
Expands To Three Days
April 27, 28 & 29, 2018
At Metropolitan Park In Jacksonville, FL
Foo Fighters lead the bill for Welcome To Rockville 2018, as Florida's Biggest Rock Experience grows to three days — April 27, 28 & 29 — at Metropolitan Park in Jacksonville, FL. Look for the full lineup for the eighth annual edition of Welcome To Rockville to be announced Monday, November 6.
"Next year's Rockville promises to be the biggest rock weekend Florida has ever seen, and Foo Fighters are only the beginning," says festival producer and creator Danny Wimmer of Danny Wimmer Presents. "I can't wait to announce the full lineup for 2018."
VIP and General Admission tickets for Welcome To Rockville will be available Thursday, October 26 at 10:00 AM EDT through Saturday, October 28 at 10:00 AM EDT via the Capital One presale. Visit http://www.foofighters.com/capitalone for more details.
The full festival lineup will be revealed, and the general onsale for Welcome To Rockville tickets, hotel and VIP packages begins, Monday, November 6 at 12:00 PM EST. Visit http://www.welcometorockvillefestival.com for full details.
In the 22 years since the 1995 release of Foo Fighters' self-titled debut album, Dave Grohl, Taylor Hawkins, Nate Mendel, Chris Shiflett, Pat Smear and Rami Jaffee have grown into the last great American arena/stadium rock band, won 11 Grammy Awards, sold 25 million records and spawned anthems like "This Is A Call," "Everlong," "Monkey Wrench," "My Hero," "Learn To Fly," "All My Life," "Times Like These," "Best Of You," "The Pretender," "Walk," "These Days," "Something From Nothing" and more. Released September 15, 2017, Concrete and Gold is Foo Fighters' ninth album and second to hit #1 in the U.S. Its world domination has included #1 debuts in more than a dozen countries.
Welcome To Rockville kicks off the annual World's Loudest Month festival series. More details for the World's Loudest Month will be announced soon.
Welcome To Rockville is produced by Danny Wimmer Presents, a producer of some of the biggest rock festivals in America, including Rock On The Range, Aftershock, Louder Than Life, Fort Rock, Carolina Rebellion, Chicago Open Air, Bourbon & Beyond, Rock Allegiance, Northern Invasion and more.
For more information on Welcome To Rockville, visit: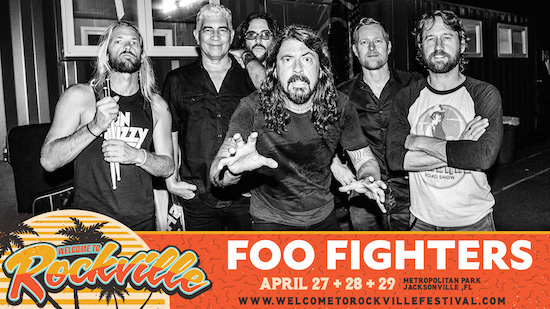 ---
About Danny Wimmer Presents:
Since 1993, music industry veteran Danny Wimmer has been producing concerts and festivals, both large and small. In 2011, he formed Danny Wimmer Presents, which now produces several of the largest rock and alternative festivals in the U.S. By combining A-list talent with local cuisine and culture, DWP has become recognized within the industry for delivering the highest-quality entertainment experiences to fans, artists, sponsors, partners and host cities. DWP creates memorable and all-encompassing festival experiences, leaving both consumers and partners with lasting and meaningful impressions. DWP will continue to add new music festivals to its already stellar portfolio, which includes Rock On The Range, Aftershock Festival, Welcome To Rockville, Carolina Rebellion, Louder Than Life, Bourbon & Beyond, Rock Allegiance, and Chicago Open Air, among others.
www.DannyWimmerPresents.com
About Foo Fighters:
In the 22 years since the 1995 release of Foo Fighters' self-titled debut album, Dave Grohl, Taylor Hawkins, Nate Mendel, Chris Shiflett, Pat Smear and Rami Jaffee have grown into the last great American arena/stadium rock band, won 11 Grammy Awards, sold 25 million records and spawned anthems like "This Is A Call," "Everlong," "Monkey Wrench," "My Hero," "Learn To Fly," "All My Life," "Times Like These," "Best Of You," "The Pretender," "Walk," "These Days," "Something From Nothing," Run," "The Sky Is A Neighborhood" and more. Foo Fighters' monolithic catalogue includes the band's eponymous 1995 debut, 1997's double-platinum sophomore effort The Colour and the Shape, There Is Nothing Left To Lose, One By One, the epic double In Your Honor, Echoes, Silence, Patience and Grace, Wasting Light, Sonic Highways—which shared its title with the double-Emmy-winning Dave Grohl-directed HBO docuseries—and most recently, Concrete and Gold. Released September 15, Concrete and Gold is Foo Fighters' ninth album and second to hit #1 in the U.S. Concrete and Gold has also posted the band's biggest ever first week numbers outside its home country, including the band's fourth UK #1, seventh Australian #1, sixth #1 in New Zealand, third Canadian #1, and #1 debuts in Ireland, Norway, Austria, Greece, Japan and the Netherlands. Concrete and Gold's arrival was heralded by "The Sky Is A Neighborhood," and the June 1 surprise release of the Billboard Mainstream Rock #1 smash summer anthem of 2017, "Run." And now finally 2017's most massive and ambitious rock n roll opus is available to all as it sits atop the global charts.
https://foofighters.com
Welcome To Rockville Publicity Contacts
Ashton-Magnuson Media
Kristine Ashton-Magnuson, kristine@am-media.net, (818) 996-2496
Selena Fragassi, selena@fr-pr.net, (847) 942-3093
Welcome To Rockville Marketing & Sponsorship Contacts
Clay Busch/Danny Wimmer Presents, clay@dwpresents.com
Lindsey Medina/Danny Wimmer Presents, lindsey@dwpresents.com
Foo Fighters Publicity Contacts
Nasty Little Man
Steve Martin, steve@nastylittleman.com
Olivia Muenz, olivia@nastylittleman.com